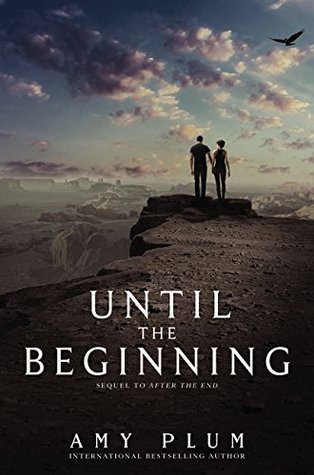 (After The End #2)
Synopsis
"When Juneau's clan disappeared, she lost so much more than her friends and family. She soon discovered everything she thought she knew about her life was a lie. Her people's gifts were actually secret abilities that others wanted, desperately enough to kidnap an entire village.

Juneau and her new companion Miles's cross-country journey to find her clan has led them to a game preserve in New Mexico. Now Juneau's people are finally within reach, and she will stop at nothing to save them. But she has a target on her back too, because unbeknownst to her she is the key to unlocking everything. To rescue her people - and herself - Juneau must discover what she, and her abilities, are truly capable of."
OMG! I just love the cover so much! In fact I love all the covers of Amy Plum's books ! Go check them! (not just the covers ;) )
This is the second book of the duology called After The End and it was the perfect ending of a brilliant, beautiful and unforgettable book series. Being a fan of Amy Plum, I was excited to read another book she wrote. And I wasn't disappointed! I'm happy to tell you about how much I enjoyed reading this novel.
Until The Beginning starts right after we left a Miles dying. The good news is and, I quote Amy saying that, "A sequel wouldn't be possible without Miles!". It was so good and interesting to read that he was going to live and, of course, about how it changed him. I thought the new Miles, after the Rite Juneau started on him, was completely fascinating! It was something really important and it allowed us to get to know Miles a lot more. It was also something that was crucial for the end of the book. Because it changed him deeply and the way he thought about himself, the Yara and life. For me, it was perfect!
Shhh! I won't tell more about it! You have to read about Miles, you have to discover the universe of After The End, which kept me captivated all along!
So yeah, I loved Miles more and more, even though I didn't know it was possible to love him more than before the second book. And it was the same with Juneau. She is the strongest, the bravest and... someone who is fragile, lost and human. In the previous book, she may have looked unbreakable, invincible but this sequel reveals a new side of her. It was awesome, very well done!
About the pace of this book, it was balanced and felt realistic. I mean that there were actions romance, thought provoking topics and really good dialogues. As usual, I found the writing was beautiful and powerful. Amy took me right where she wanted me to go and succeeded in creating a universe unique and fascinating.
I loved the end a lot! The final was so exciting and scary! Until the last thirty or twenty pages, I didn't know how it would end! So, besides telling you that the After The End series is a MUST READ, you have to know it's also a page turner! There are strong and endearing characters, a well and original plot, and an intense writing. I laughed a lot and, well, I shed some tears too! I recommend this book series to every book lover who enjoys suspense, action and romance!
You can buy your copy of After The End and Until The Beginning everywhere ! Go spend your money in the best way possible!
Happy reading!