Hello everyone ! How are you doing? What are you reading?
I have the pleasure to tell you about one of my last very goodreads. It's been a while since I really shared a review here on this blog but I'm happy I can take time to talk about Absolute Truth, For Beginners. Here are the few things you need to know: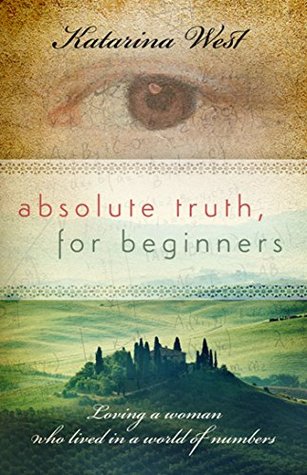 I give this amazing novel 4 stars ! Just like with her first book, Witchcraft Couture, Katarina West give us a unique, beautiful and gripping story. Way more than with her previous book, I felt so much for her main character and the things she was going through. Of course, there are a lot of things to say about Absolute Truth, For beginners, but I will give you four absolute truth you should know regarding this novel. Four things that will make you say : « I have to read this book too! »

The first thing I absolutly loved, making this book a MUST READ, is the writing ! When you start reading Absolute Truth, it's hard to stop. I had to because of work and it was frustrating to not be able to continue turning the pages.This is the kind of writing and story that makes you think, reflect and realize things about yourself. The way Elisa falls in love is realistic and shows a bit of innocence, it also shows how love can be blind and makes you act as someone else, though it makes you grow up at the same time. At least, that's how I felt about the main character's journey until the end of the book.

Second absolute truth is that this book is for everyone. Trully, I can say that you just need to enjoy great books to read this one. You will love the setting, the universe in which the characters are living in or just simply, as I just said above, because of the writing. It was a real pleasure to discover page after page, the core of the story and its meanings.

Third excellent and absolute truth about this book : An intense and unique love story that will stay in your mind and heart. There are so many things to discuss about this book : is it wrong really to fall in love when you're not supposed to ? What does it say about you ? What to do when things get out of control ? Is there really a line we can cross regarding being with the one we love ?

Fourth absolute truth is that this is a really good second book. Though I enjoyed the first one, I love Absolute Truth for beginners even more. I find a few of the same ingredients : the love of art, interesting characters, a special universe or just a very well developped topic along the book.

I was given this ARC in exchange of an honest review. I hope my review makes you want to discover Katarina West's books. She is a talented and very kind person.
About the author :
Katarina West is a novelist. She is the author of Witchcraft Couture and Absolute Truth, For Beginners, coming out in December 2015.

She was born in Finland, has studied in London and Florence – where she completed a doctorate in political science and published a book based on it – and now lives in an old, isolated farmhouse in Chianti with her husband and son, and a German ghost. (Yes, you might hear some German murmured on a moonlit November's night…)

Katarina is currently working on a new novel – and, writing and country life permitting, tries to read anything and everything well-written that comes into her hands.
You can find her on Twitter (@WestKatarina) and visit her website to know more about her.

Happy reading!