X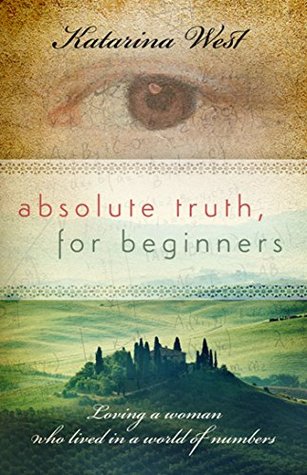 Hello everyone !
Today, I'm happy to take the time to talk about what I'm currently reading. Since Katarina West first introduced me to her new book, I was dying to read it! I started it a few days ago and I love it a lot already! Though I can't read her novel as much as I want to, everytime it is so easy to get back into it. The writing and the story in itself are brilliant and... But I will let you know everything about Absolute Truth, For Beginners when I publish my review! Just know that I'm having a great time reading it and that I'm sure you will too! Could be a great idea of Christmas' gift!
Blurb :
Elisa Mancini is a Nobody. Painfully insecure, more at ease with books than with people, at twenty-three she's a university dropout living at her aunt's, drifting from one day to another, and waiting for something big to happen.
Judith Shapiro is a Somebody. Arrogant and eccentric, she's a superstar of mathematics, the subject of scientific articles, and the undisputed ruler of the world around her.
In a trillionth of a trillionth of a second, Elisa falls madly in love with Judith Shapiro. For sixty-eight days she is the mistress of an internationally acclaimed mathematician.
But loving Judith Shapiro is like running a marathon in a war zone. As days pass, Elisa's wild infatuation takes on a suicidal bent, and the world around her starts to go to pieces. Just as everything is about to blow up, the moment of truth comes.
Absolute Truth, For Beginners is a story about truth, time and love. Or about identity, positive nursing, degrees of happiness, Baroque art, scientific theories, homosexual lovemaking, arrogant television producers, and becoming who you really are.
About the author:
Katarina West is a novelist. She is the author of Witchcraft Couture and Absolute Truth, For Beginners, coming out in December 2015.

She was born in Finland, has studied in London and Florence – where she completed a doctorate in political science and published a book based on it – and now lives in an old, isolated farmhouse in Chianti with her husband and son, and a German ghost. (Yes, you might hear some German murmured on a moonlit November's night…)
I read her first book Witchcraft Couture and you can find my review on my blog. You can buy her books on Amazon.
Happy reading!