Hello everyone !
I want to start this post by saying I miss blogging, I miss talking about the books I love. Of course I have the chance of doing it almost everyday at work but it's not the same. Being a book seller is a dream come true, a difficult and demanding one, but stil I love it! (even I have enough sometimes, I admit) Because there are books I have to read, I can't always chose what I want. And that means I can't share my goodreads. I have been very busy : school, work, writing and reading.
But it's not because I can't read my favourite authors that I can't talk about them and their new releases. So I have an idea that makes me feel better : talking about the books I want to read !
I already have a tons of books you need to know about : this is a very long list!
Let me start with a book I absolutly WANT to read! Staying on course is the sequel of Finding our way, the first story I read by Ahren Sanders. I loved this story about young love, moving and realistic characters. The writing was catchy, intense and kept me turning the pages until the end, until I wanted to read more of Ahren Sanders books. It has been almost a year since I read Finding our way but I didn't forget a single thing about the story. I can't wait to meet again with Bryce and Devon.
If you have already been here on my blog, you have to know Ahren Sanders. She is one of the authors that made me love and totally convert to Romance. As a budding author, I would be so proud to have her carreer and talent, the way she can tell beautiful and unforgettable stories... Well, I don't only love her for her kindness, you see. So you can understand how much I love talking about authors I love, even more when I can call them my friends. For those wo didn't read or know about Finding our way, you'll find the blurb and a few teasers below :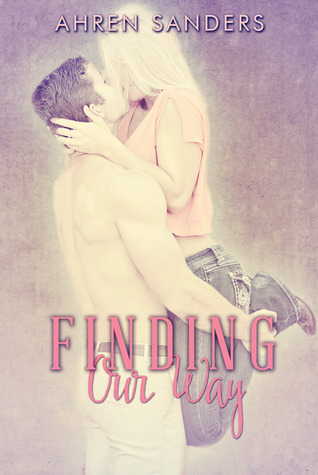 Finding our way
"Young Love. Schoolgirl Crush. Complete Adoration.

All of these words describe the way I've felt about Bryce Randolph since the day he walked through my door. I was twelve and he was my brother's best friend, but he never treated me as the pesky little sister. As the years went on, my feelings grew stronger. The day I turned eighteen was supposed to be the best day of my life, instead it became the worst.

Heartbreak, Devastation, Anguish.

With the right amount of time and distance, the ache lessens. My new life has no room for the endless tears I cried for months. Emotionally, Bryce betrayed me and caused a deep heartache I never thought I'd overcome. Now, I'm stronger, more focused, and extremely guarded. Moving on helped me find clarity and build a new path for my future.

Just as things seem to fall into place, Bryce finds me. He's a man on a mission and I'm the mission. His determination and persistence becomes hard to ignore.
Is it possible we may just have the future I always dreamed about?"
Here is the link of my review of Finding our way. And you can add her books on Goodreads. Ahren's facebook page is also a place where you'll find all the info about her books. Join her, it's always fun! I wish a happy reading with Ahren Sanders books, you will LOVE it!
Bisous for you!