Hello everyone!
It has been a while since my last review and I'm really sorry. I miss blogging because it means that I can't talk about my favourite books of the moment... BUT I have time now to tell you about All the bright places by Jenifer Niven. Her book, the first YA (and I really hope there will be more!) she wrote was translated in French recently and was released last month. I had the ARC in hands thanks to my new job and I was beyond happy! I'm even thinking about buying myself this novel in English!
Anyway, here is what you need to know about this amazing and beautiful book: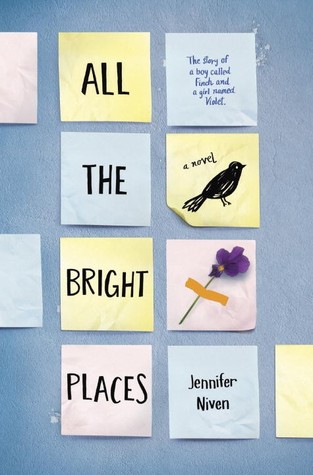 Theodore Finch is fascinated by death, and he constantly thinks of ways he might kill himself. But each time, something good, no matter how small, stops him.

Violet Markey lives for the future, counting the days until graduation, when she can escape her Indiana town and her aching grief in the wake of her sister's recent death.

When Finch and Violet meet on the ledge of the bell tower at school, it's unclear who saves whom. And when they pair up on a project to discover the "natural wonders" of their state, both Finch and Violet make more important discoveries: It's only with Violet that Finch can be himself—a weird, funny, live-out-loud guy who's not such a freak after all. And it's only with Finch that Violet can forget to count away the days and start living them. But as Violet's world grows, Finch's begins to shrink.
The story starts with Finch, a teenage boy seen as a weirdo by his schoolmates, who is attracted by Death. Sometimes, he spends his time by trying to picture ways to kill himself... On the other hand, there is Violet who used to be happy, who used to know who she was and what she was meant to do with her life... Until the day her sister died and a void rented her heart and mind. Violet, as everyone else, had heard of Finch but that morning, when she unconsciously dragged herself on the roof, she met him. She saved him by being saved by him. Did she really want to die? Was really about to jump before he realized he wasn't alone?
It doesn't really matter then because Finch falls for her faster than he would have by jumping from the roof of his High School. After that morning, he finds ways to invite himself in her life and, of course, he will also change her to let Violet heal slowly but surely. It starts with a homework and ends up being about all the bright places they didn't know or barely knew, all the landscapes and people they were actually destined to meet and discover. Violet and Finch' story is about how to go find who you are to free yourself and the one you love.
Now let's talk about how I felt while reading All the bright places.
What can I say besides I went through a tunel of pure, true and deep emotions. I felt EVERYTHING. The story was so beautifuly written, the characters so endearing and realistic... There were moments to laugh, to dream, to reflect, to cry (even now, after a few weeks, I'm still not over this book!) and to fall in love. I fell for those two teenagers finding true love, being also kind of the first. I fell for the songs, the topics so well and gently brought to us by Jennifer. It wasn't maudlin or too much. Really, everything felt perfect and right.
What else can I say? YOU HAVE TO READ THIS NOVEL! That's my favorite thing to say about a book I really loved. I'm so happy I can speak about this book inside the bookshop I'm working in. You could think this book is depressing because it made me cry and broke my heart, or because it's also about suicide but it's not. There is truly brightness in this story and I hope you will find it too.
Happy reading!