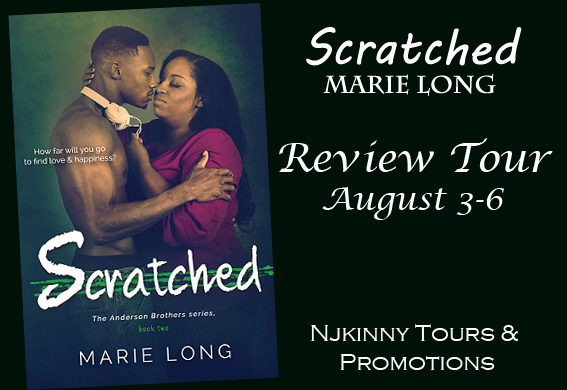 Welcome to the Review Tour of Scratched by Marie Long. This is the second book in The Anderson Brothers series but it can be read as standalone.
I am so excited to host the book on my blog today and share my review plus a cool Giveaway!
~About the Book~
Title and Author:
Scratched by Marie Long
No. of Pages: 324
Series:
The Anderson Brothers Series, Book 2
Genre: New Adult Romance
Publication Date: 4th August 2015
Blurb:
Twenty-four year old Kevin Anderson lost the opportunity to end his senior year at the University of Washington as the Huskies' all-star point guard, and sought out one last opportunity to put his extraordinary basketball skills to use: by training for a chance at the pros.
But when he's not on the court, Kevin has only two things in his life that gives him happiness: spinning records at the local clubs, and Trinity Brown.
Trinity attends almost every one of Kevin's deejay gigs, but Kevin is uncertain if her love for him is genuine or a fangirl's simple admiration. Kevin takes that chance and hopes that she will see beyond the celebrity persona. But when fall classes start up again, their busy schedules press their relationship.
Kevin doesn't want to give up on her--on them. He hopes the happiness they had will rebound once more.
But when he learns the truth about Trinity, Kevin must decide if it is worth everything--and everyone--he cares about to save her, or forfeit this exhausting game of love.
I gave 4 stars to the second book of the Anderson Brothers series.because I was truly NOT disappointed by this sequel! I enjoyed discovering more deeply Kevin and Trinity. Actually there are a lot of things I loved but here is what you need to know about Scratched!
I think this second book can be read as a stand alone but it was really nice to meet again with Kevin's brother. I admit it would have been nice to read his point of view regarding some of the events of the book. I liked Kevin, even his flaws, but Dom stays my favourite brother... for now! But anyway, Kevin is also a very captivating character. For instance, the way he was dealing with his past or just his vunerability. Or just his budding love for Trinity. It felt like, this book was not just about his new relationship with Trinity, it was also time for him to get rid of his demons.
About the romance, I enjoyed Trinity's personality. She was tough and caring, she also was careful and endearing. The two of them were both sweet and hot, but mostly really moving. I wanted to read about her because from the beginning, and even from the first book, she looked like an authentic character. I can't tell you more about their love story, just know it was a beautiful and realistic one.
What I really liked about Marie's writing is how true and powerful it is. It was easy to get into Kevin's head and to feel and understand him. It is very efficient and you absolutly can't stop turning the pages. The story telling offers funny, tender, sad, strong and moving moments.
I really advise you to get your copy of Scarred AND Scratched! It's one of the best Romance New adult I've read. I think you should discover Marie Long and all about her unforgettable writing and her stories.
~Buying Links~
~About the Author~


Marie Long is a novelist who enjoys the snowy weather, the
mountains, and a cup of hot white chocolate. She's an avid
supporter of literacy movements like We Need Diverse
Books (WNDB) and National Novel Writing Month
(NaNoWriMo). To learn more about her, visit her website:
~Follow Marie~
~Hosted by~