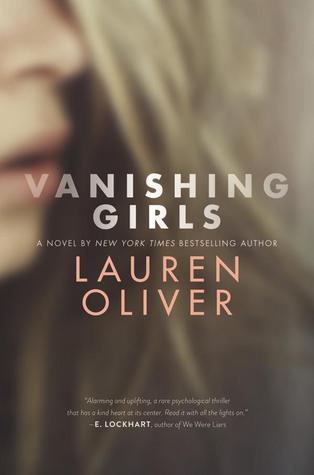 "Dara and Nick used to be inseparable, but that was before the accident that left Dara's beautiful face scarred and the two sisters totally estranged. When Dara vanishes on her birthday, Nick thinks Dara is just playing around. But another girl, nine-year-old Madeline Snow, has vanished, too, and Nick becomes increasingly convinced that the two disappearances are linked. Now Nick has to find her sister, before it's too late.

In this edgy and compelling novel, Lauren Oliver creates a world of intrigue, loss, and suspicion as two sisters search to find themselves, and each other."
This novel is a masterpiece ! It's a shaking read : my brain, my heart and my soul were all over the place. It is something I expect from Lauren Oliver each time I pick one of her books so I should have been prepared... But really, nothing could prepare someone to how brilliant and impressive this book is.
At first, I thought it was going to be another teen drama. Don't get me wrong, I love drama and small town's atmosphere. (And Lauren writes them perfectly, check Panic for instance !) I like reading about scarred, lost and troubled characters who search for some meaning after the mess happened. So after a few chapters, I was already deep into the story of two different sisters. The two points of view revealed just enough of the story to keep me turning the pages. I had to find out more about how they could make things better between them. There was definitly something in their voices and suffering worthy of my squeezed heart.
In Vanishing Girls, the intrigue is so well developped and built that you shouldn't try to guess anything in advance... but that's impossible ! As I did, you will want to know ! While reading, I was sure of one thing then of the opposite ! This book is smart and psychologically intense, and with that, you can't help but think and think and feel too.
The end...? Well, it totally blew my mind and heart ! I couldn't believe the words perfectly written and chosen on the pages. Then, I quickly looked back at everything and knew that I really couldn't believe it, as in I didn't WANT to believe... I'm going to stop right here, no spoilers !
I gave Vanishing Girls 5 stars on Goodreads because of how I felt at the end of the book. The more I think about it, the less I can describe it but, trust me, you have to read Vanishing Girls ! It's even better than what everyone's telling and promising.
Happy reading !