Somewhere Only We Know
Publication date: June 15th 2014
Genres : Romance, Young Adult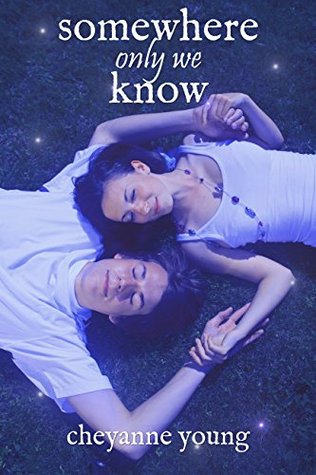 Synopsis :

"Sadie Bradford's life is one anxiety attack after another. All she wants is to escape life's realities for the summer and hang out with her best friend Aaron. But her grandmother has other plans: Sadie will get a job. Sadie will do volunteer work. Sadie will make new friends – friends without brain injuries that make them forget everything…friends that aren't Aaron.

While Sadie struggles to survive her anxiety with all these new changes, she finds an escape when she dreams herself into the beautiful world of Isola Fiona. It's a place that cures memory loss and anxiety. It's a place where she and Aaron can fall in love.

But after dragging Aaron along with her to her dream world, things take a turn. Every time they return home, Sadie's anxiety is a little better but Aaron's memory is still gone. And Isola Fiona may not be much of a dream after all. As Sadie realizes that Isola Fiona is as real as her anxiety, she rushes to change the course of fate and make things right, but she may be too late…"
I read the blurb and I was like "Oh my... I have to read this !". So I was really happy to get the copy of Somewhere Only We Know in exchange for an honest review. And here it is !
This novel is a short read, funny and deeply moving. I loved the characters but hated what they had do deal with : Sadie's anxiety is making her feel like a monster, she's scared of everything, even breathing. And Aaron, I wanted to give him a hug everytime ! It's not pity because of his illness, it's more that I wanted him to be cured all the time so he could finally have what he needed and wanted : Sadie, normalcy and his memory. It was heart breaking because they both are endearing and beautiful characters.
The world Sadie and Aaron discovered was strange, nice and attracting, interesting too. It was the place to be. I wish we could know more about it : its origins, its running or just its characters. But in the end, everything felt right and kind of realistic. For instance the characters' reaction regarding the possibilities Isola Fiona offered. I also think there are topics to think about : life, death, freedom, love and illness.
I loved the end of the story, of course, but let me tell you that there are a few twists ! The last chapters were a bit surprising for me. And so it made the reading experience more and more intense and amazing.
To conclude, I LOVED Somewhere Only We Know ! I love the writing, the depth of the story and how it made me feel. I recommend this book to all of the fans of YA romance with a little paranormal touch. Oh and trust me, Aaron is totally book boyfriend material !
Happy reading !
You can buy Somewhere Only We Know on Amazon for a small price, grab your copy and you won't regret it !
http://www.amazon.com/gp/product/B00L1QUGJM/ref=x_gr_w_bb?ie=UTF8&tag=httpwwwgoodco-20&linkCode=as2&camp=1789&creative=9325&creativeASIN=B00L1QUGJM&SubscriptionId=1MGPYB6YW3HWK55XCGG2