Hello everyone !
Welcome to this 13th bookshelf of the month ! As usual, I'm proposing you three books I'm dying to read, three very different one that I hope you will want to discover and read as well.
1) Hearing Colors : The Birth of Anniston
by Vita Coop
Synopsis :
WHEN THE OTHER WOMAN IS THE SOUL MATE

Deemed powerless by married judge Zieg Davenport, Anacelia falls victim of being the other woman. The contrast of his baby blue eyes and dark skin holds her attention hostage, a trait that is responsible for his nickname-Baby. Anni gets caught in Baby's world where romance meets intensity. Her mind, body and soul are at war but sexuality steps in to win. Even the problems of Anni's family and friends can't detour her from this romance... The desire to be with this man overcomes the torment that the people around her are going through. Baby may have been just what she needed to reach her full potential. This passion is the fuel that drives her to loyalty and dedication. Together they can conquer anything, but his wife still plays a major role in his life. Things heighten as Anni welcomes an old friend into this love triangle. The past accepts the invitation into the present. Who knows what her future holds? Strap on your seat belts and accompany Anni to an unforeseen destination.
I was given this book in exchange of an honest review and I'm so glad I get to read this novel. The blurb sounds promising and exciting. I can't wait to start April with this read !
2) Vanishing Girls
by Lauren Oliver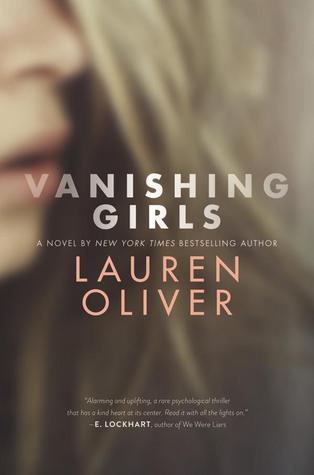 Synospis

Dara and Nick used to be inseparable, but that was before the accident that left Dara's beautiful face scarred and the two sisters totally estranged. When Dara vanishes on her birthday, Nick thinks Dara is just playing around. But another girl, nine-year-old Madeline Snow, has vanished, too, and Nick becomes increasingly convinced that the two disappearances are linked. Now Nick has to find her sister, before it's too late.

In this edgy and compelling novel, Lauren Oliver creates a world of intrigue, loss, and suspicion as two sisters search to find themselves, and each other.

Completly different from the first book of this bookshelf of the month, I will continue loving April with one of my favorite authors ! I heard about Vanishing Girls for so long that I'm really happy I finally get to read this new Lauren Oliver's treasure, released in March.
3) The list
by Angela Snyder
Synopsis :
Lauren Parker was a typical college student until one tragic event that changed her life forever. Unable to escape the terrible secret from her past, Lauren was ready to end it all. She had barely noticed Colin Matthews around campus before that night --- the night he saved her from making a horrible decision. Falling in love with Colin was the easy part. But before she can move on with her future, she has to face her past.
This is a New Adult novella just like I want to read and write more. I have this book on my Kindle since the day I became a fan of Angela Snyder. I loved her Paranormal previous book, Vampire Next Door and I had the chance to interview her. I'm already sure I will love this story as well.
So here you have my selection for this month. I hope you will want to read these book just like I do. If you already read them, share your thought with me. Or if you have some book I have to had to my TBR list, feel free to comment !
Happy reading !