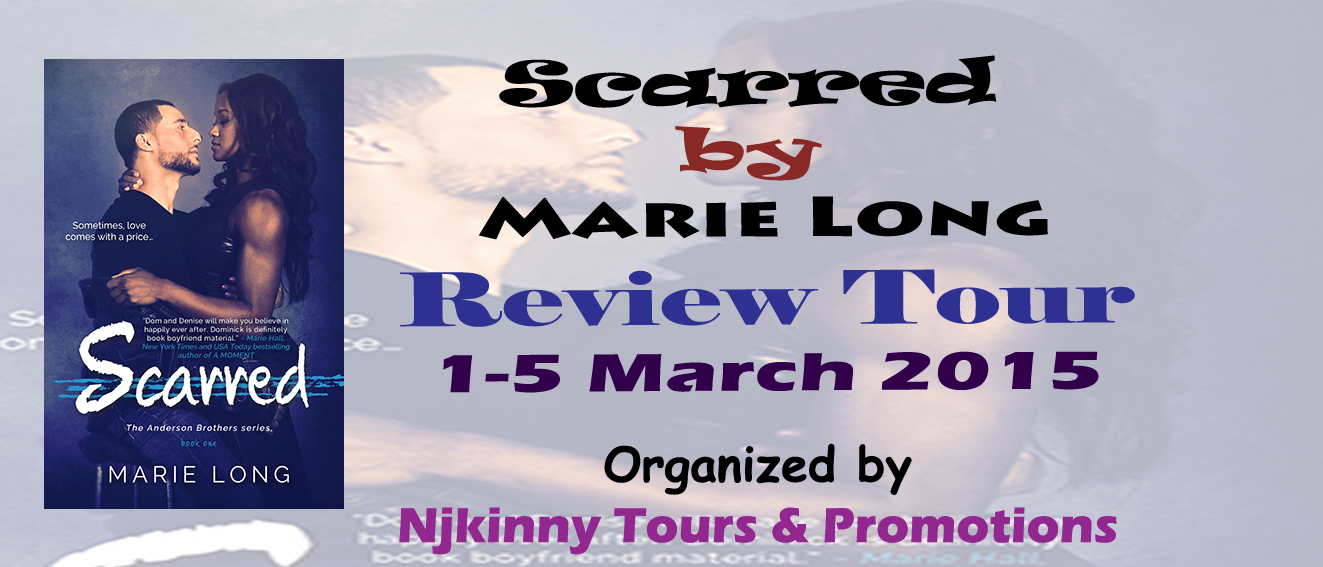 Welcome to my stop on the Review Tour for Scarred by Marie Long. Scarred is a New-Adult, contemporary romance with a happy ending! :)
Scarred (The Anderson Brothers Series, book one)
No. of Pages: 313
Genre: New Adult, Contemporary Romance
Sometimes, love comes with a price…
The past is gonna try and bring you down, but you gotta fight. Fight hard for what you love. Fight to win is what twenty-two-year-old Dominick Anderson believes, but his life is a struggle. Growing up with an abusive father has made Dominick slow to love and trust, and here lies on his brother Kevin to keep him on a straight path.
Dominick fights his demons every day, every night. Now a sophomore at the University of Washington and working a steady job at a mechanic's shop, Dominick wants to create a better life and find the future his father never wanted him to have.
Dominick suppresses his identity and feelings until he meets Denise Ramsey. Smart, stunningly gorgeous, and sharing his love for motorcycles, Denise is everything Dominick longs for in a girl but knows he can never have.
When a past love threatens her life and brings out Dominick's dark side, he must decide if she's worth the risk.
"Dom and Denise will make you believe in happily ever after. Dominick is definitely book boyfriend material."
– Marie Hall, New York Timesand USA Today bestselling author of A MOMENT

~Teasers~
"You have to keep moving through the dark tunnels of life no matter what. Because at the end of that tunnel, you'll eventually find light." ~ Uncle Adam
"You twenty somethings are all about taste testing. Seeing what's out there. That's what it's all about, right?" ~ Lonz "Dragon"
"You're a grown woman. You can do whatever the hell you want." ~ Dominick
"Chris? Not sleeping around anymore? This has to be some sort of apocalypse." ~ Dominick
"Everyone fights for what they believe in. Everyone fights for what they love the most, no matter how bad it gets. You're in a dark tunnel right now, Dominick. Been stuck in that dark tunnel for a while. But you can't give up what you believe in, what you love. Because what you love the most will be waiting for you at the end of that tunnel." ~ Larry
"

A man his age? No

kids? He's a diamond in the rough!" ~ Lauren
"
It's crazy how fate can bring two people together. Or was it destiny?" ~ Dominick
~Book Review~
I got an Arc in exchange of an honest review so here it is !
This is the first book Marie Long published and I have to say this is a really good first novel. It's well written with moving and realistic characters. I think this is the kind of romance that is both deep and tender. I loved Dominick and I really enjoyed reading from his POV. He and Denise were really endearing and well, perfect for each other !
The author promised a great book boyfriend and here we have it ! Dominick was not just scarred, broken and afraid. No, he was also funny, smart, so thoughtful and caring. The way he thought and acted were trueful. You can look for a guy like this but I'm pretty sure he is already taken or hiding somewhere. I felt like he was some rare treasure you would only find in an old shop where you wouldn't have looked. But iof you're like Denise, you'll want to keep him close. She realized quickly enough he was everything she always hoped for. She seemed so nice and fun, cute and reliable. You will want her as your best friend !
Again, the two of them were meant to be together. Even darkness couldn't keep them apart or make one of them run away. Dominick' secrets were terrible and it made my heart hurt. So I'm beyond happy he finally got what he deserved so much. Now I can picture him being happy for the rest of his life. His demons are fading away like snow under the warm and shining sun.
The second characters were great too, I loved Kevin and I can't wait to read more about him. Also, there were intense moments that made the read lively. And what about the hotness of this true love? Denise and Dominick were so touching. I often smile and like me, I'm sure you will feel something deep inside.
So as you can see, I really enjoyed this novel ! Thank you to Marie Long for this beautiful and lovely happy ending ! I'm a big fan of this kind of love story. There is everything a book lover like me can appreciate.
I highly recommand you to read this book. This is the first novel of The Anderson Brothers series and I will gladly read the sequel.
Happy reading !
~About the Author~


Marie Long is a novelist who enjoys the snowy weather, the
mountains, and a cup of hot white chocolate. She's an avid
supporter of literacy movements like We Need Diverse
Books (WNDB) and National Novel Writing Month
(NaNoWriMo). To learn more about her, visit her website:
~Follow Marie~
a Rafflecopter giveaway
~Hosted by~