I was here
by
Gayle Foreman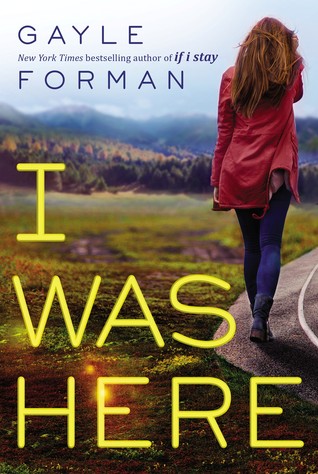 "Cody and Meg were inseparable.
Two peas in a pod.
Until . . . they weren't anymore.

When her best friend Meg drinks a bottle of industrial-strength cleaner alone in a motel room, Cody is understandably shocked and devastated. She and Meg shared everything—so how was there no warning? But when Cody travels to Meg's college town to pack up the belongings left behind, she discovers that there's a lot that Meg never told her. About her old roommates, the sort of people Cody never would have met in her dead-end small town in Washington. About Ben McAllister, the boy with a guitar and a sneer, who broke Meg's heart. And about an encrypted computer file that Cody can't open—until she does, and suddenly everything Cody thought she knew about her best friend's death gets thrown into question.

I Was Here is Gayle Forman at her finest, a taut, emotional, and ultimately redemptive story about redefining the meaning of family and finding a way to move forward even in the face of unspeakable loss."
Reading this new treasure by Gayle Foreman was breath taking and thought provoking. I savoured this book and felt so much emotions while reading... I already got this kind of experience when I read If I stay so I was sort of prepared for the journey. But still, this novel was for me like any book I read before. Here you have every ingredient of an unforgettable and moving story.
"Because it doesn't seem like living to me, it seems like persevering, like it's the most I can hope for."
First thing you need to know is about the powerful and beautiful writing of Gayle Foreman. The story is told through a realistic, honest and deep voice. I could relate on Cody's journey, even though I never had to deal with her demons. She was never pathetic or too cold. Her character was really well developped, interesting and genuine. With books, I had experienced it before but the whole story of how she's trying to get over the traumatism of her best friend' suicide was almost fascinating. She's a true heroine, with weaknesses, ghosts and bravery. Her will to uncover the truth felt right, just like the untying of Meg's secrets. Cody's reflexions took me wherever she was going while leaving me with deep thinking of my own after I closed the book.
As for the second characters, I loved them all ! I loved seeing the strings that lead each character to Meg and then to Cody. It was well done and surprising. Of course, I added Ben McAllister to my book boyfriend list. He was almost as moving as Cody was, with his past and regrets. He was a three dimensional character with flaws and fears. And well, can I refuse a musician with blue eyes, sexy and mysterious, funny and sweet? No, I can't !
"I'll go where you go."
A simple statement that feels like a blanket."
Ben
"...I don't want to lose you because of the f**ked-up way I found you."
Ben
I admit, I cry easily when emotion strikes. And because of the sad and dark themes involved, I was afraid I would, again, cry my heart out. But I didn't, I only kept it inside... until the last twenty pages. But really, the topics of I was here are important, necessary and in the center of our modern society. So don't be afraid to open your eyes and heart to such a scary and beautiful story. You will laugh as well, wake up with a fresh view on life.
To finish, this novel was smart, well written, sad but kind of positive too. It's not your typical YA love story, even if we get chemistry and tender moments. No, in my mind, it's above all a story about friendship.