Hello there !
This is the 12th Bookshelf of the month I publish and I can't believe it's my one year anniversary. To celebrate, I think I will do a giveaway here where you could win a few books !
In March, I want you to discover three books from three different genre : Paranormal/YA, YA/Contemporary and Paranormal/Romance. It is exactly the kind of books I love and I hope you do too.
1) The Raven Boys (in French) by Maggie Stievfater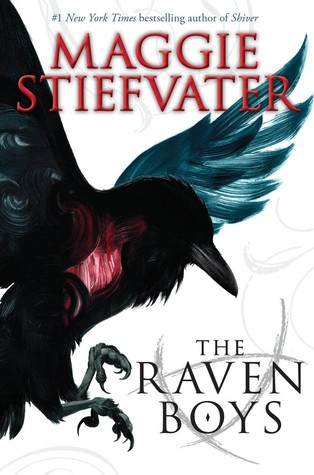 ""There are only two reasons a non-seer would see a spirit on St. Mark's Eve," Neeve said. "Either you're his true love . . . or you killed him."

It is freezing in the churchyard, even before the dead arrive.

Every year, Blue Sargent stands next to her clairvoyant mother as the soon-to-be dead walk past. Blue herself never sees them—not until this year, when a boy emerges from the dark and speaks directly to her.

His name is Gansey, and Blue soon discovers that he is a rich student at Aglionby, the local private school. Blue has a policy of staying away from Aglionby boys. Known as Raven Boys, they can only mean trouble.

But Blue is drawn to Gansey, in a way she can't entirely explain. He has it all—family money, good looks, devoted friends—but he's looking for much more than that. He is on a quest that has encompassed three other Raven Boys: Adam, the scholarship student who resents all the privilege around him; Ronan, the fierce soul who ranges from anger to despair; and Noah, the taciturn watcher of the four, who notices many things but says very little.

For as long as she can remember, Blue has been warned that she will cause her true love to die. She never thought this would be a problem. But now, as her life becomes caught up in the strange and sinister world of the Raven Boys, she's not so sure anymore."
I read it and LOVED it ! My review is coming soon !
2) I was here by Gayle Forman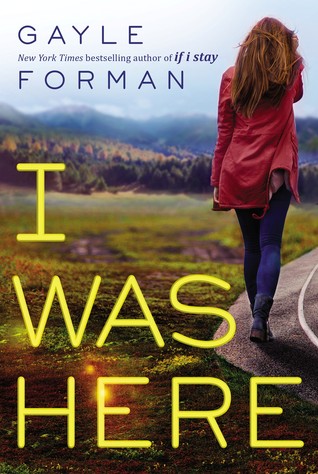 "Cody and Meg were inseparable.
Two peas in a pod.
Until . . . they weren't anymore.

When her best friend Meg drinks a bottle of industrial-strength cleaner alone in a motel room, Cody is understandably shocked and devastated. She and Meg shared everything—so how was there no warning? But when Cody travels to Meg's college town to pack up the belongings left behind, she discovers that there's a lot that Meg never told her. About her old roommates, the sort of people Cody never would have met in her dead-end small town in Washington. About Ben McAllister, the boy with a guitar and a sneer, who broke Meg's heart. And about an encrypted computer file that Cody can't open—until she does, and suddenly everything Cody thought she knew about her best friend's death gets thrown into question."
I love Gayle and her If I stay and I was so sure I would love this new book too... And after five pages, I knew it would become of one my coup de coeur. I can't wait to talk to you about this novel !
3) Bloodweight (Underdogs of the Arena #1) by Eva Lenoir
"As a young independent vampire, Ellen Banks takes the ring, and all eyes are on her. The lithe rebel has worked hard to get to this one moment in her less-than-stellar life. No one will stand in her way of that championship belt, especially not the powerful and impossibly salacious Nash Stanford. If only her traitorous body's reaction would shut the hell up.

Nash Stanford, Vampire Sire of the East Coast, has been biding his time. He is a shrewd businessman and knows a good investment when he sees one. But when he looks at the incredibly sexy Ellen Banks, there is more than just money on his mind. Will she agree to work for him? More importantly, will she finally give into the hunger building between them?"
I recently discovered Eva Lenoir and she is a French author like me. But that's not why I picked her book. I read one of her novella from the Intrigue Anthology and absolutly loved it. This novella is both Romance and Paranormal and I'm sure I will enjoy it.
As usual, I hope you will love this selection ! Tell me about your reads or if you read these books, I would be happy to share my thoughts with you all !