Light of Lorelei
(Tales of Skylge #2)
by Jen Minkman
"There is no light without shadow,
no truth without sacrifice,
and no way to keep us all from harm.

Aska wants more out of life than being a temple girl in the St. Brandan Convent of Brandaris. Her life-long service to the Baeles-Weards is the only reason she wasn't killed immediately after birth – she is atoning for the sins of her parents. Her Anglian mother and Skylger father were never supposed to love each other and have children, and Aska is reminded of her low status and illegitimacy by her fellow temple girls every day.

But then she meets Tjalling, a young, mysterious, and charming Skylger fisherman who doesn't seem to care that he is not supposed to befriend her. Soon after they meet, the island falls prey to the largest Siren attack in the history of Skylge and Aska is beginning to doubt the wisdom of the priests. If the Light in the Tower really keeps the people from harm, why are the Shriekers taking more and more lives each day?

Adding to her inner turmoil is a secret meeting with Royce and Enna, who want to recruit her into their resistance movement, an unexpected confession from her best friend Melinda, and Aska's realization that she likes Tjalling a bit too much for her own good.

Soon, she is going down a road there is no turning back from, forcing her to make choices that shake the foundations of her world.
For Aska, there is only one true choice – to bring the truth to light."
After Sound of Sirens, Jen Minkman succeeds once again to amaze me with this great sequel. This second book of the Tales of Skylge series completes the first book by offering us a different point of view. It also brings us some answers we wanted so bad. Regarding the light in the Tower for instance or what will happen after Enna and Royce teamed up to uncover the secrets of the Current society. And we get to meet new awesome characters and one mysterious and attracting new book boyfriend (more later about Tjalling ) ! Aska is, like every Jen's characters, very unique and her story is interesting, well developped and touching. Before I continue, let me remind you that Jen gave me this e-copy in exchange for an honnest review. I feel lucky to get her books and share with you her wonderful stories. Please, check my category : Jen Minkman.
What I enjoy about this second book is the difference between the life that the main characters lives, compare to Enna's. We still have the whole mystery and story of Skylge, of course, but Aska leads a complete life. She is both a Skylger and an Anglian but it seems like she doesn't really know where she belongs. St Brandan Covent is the only place she can stay but it feels like a prison. She's stuck... Fortunatly, she has a best friend, Melinda and a loving person as Mother Henrietta, by her sides. When Sirens attack again the Island, Aska doesn't care anymore about where she belongs, she just feels the need to do something to protect her home. But how?
Though Tjalling doesn't have any answer to give to her, Aska is attracted by this stranger who seems to find her anywhere and anytime. Is he following her? Who is he really? Can she trust this brand new feeling of attraction? But most of all, what's the point? She will never be able to lead a normal life like every girl at the Covent. She doesn't have a choice regarding what she can do, who she can love... As she discovers the secrets of her city, Aska realizes everyone around her has one as well.
I really loved the new characters and seeing some from the previous book again but I fell for Tjalling so much ! He is complex and has his own story, you will want to know about him for sure ! The romance between him and Aska is sweet and funny. I wasn't disappointed about how it was developped. I can't wait to meet them again in the third and last book of the series.
I won't say too much and let you discover this amazing series which combines Dystopia and Fantasy. I hope you have read the first book, Sound Of Sirens, and will buy Light Of Lorelei.
I had a great time reading Light Of Lorelei and I invite you to do the same ! You can buy it on Amazon, Kobo, Google Play, B&N and Itunes.
I wish you a wonderful read, have fun !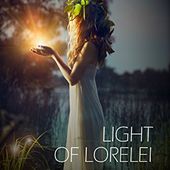 Light of Lorelei (Tales of Skylge Book 2)
Light of Lorelei (Tales of Skylge Book 2) - Kindle edition by Jen Minkman. Download it once and read it on your Kindle device, PC, phones or tablets. Use features like bookmarks, note taking and ...
http://www.amazon.com/Light-Lorelei-Tales-Skylge-Book-ebook/dp/B00SOYO9UQ