Die Once More
by Amy Plum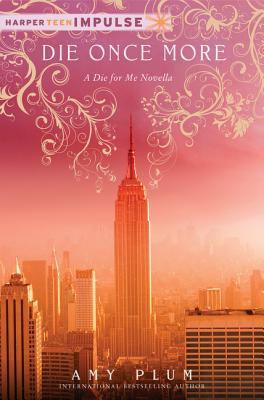 "This one-hundred-page novella picks up where the international bestselling Die for Me trilogy ended and follows the eternally irresistible Jules Marchenoir as he leaves Paris behind for a fresh start in New York City.

Jules is a revenant—an undead being whose fate forces him to sacrifice himself over and over again to save human lives. He's spent the last century flirting his way through Paris and, most recently, falling in love with his best friend's girlfriend. Loyalty and heartbreak have led him to choose a new life in NYC.

Separated from his friends and his home, Jules is adrift in this dangerous new world, facing unknown enemies . . . until he meets a revenant named Ava. Though the battle for France has been won, an epic war between good and evil has just begun in the Big Apple, and Ava needs Jules's help to uncover the key to an American victory. Jules finds himself in the same position he crossed an ocean to escape: at risk of losing his immortal existence as well as his heart."
I'm gonna make this a short review because I don't want to tell you too much about the Die For Me series. Just know that I'm thinking about a special post about the whole series ! :)
Sooo... Where do I start?

I gave 5 stars because :


1) I loved the idea of a second ebook from Jules' POV. I remember I actually screamed when I read Amy's news. I was near an airport in England and about to go back to France, there were a few people besides me and it was July. I was sad about going back to France but then I read about Die Once More ! I was soooo excited ! Words can't tell how happy I was ! And I was even more excited when I started reading the novella at midnight, a few minutes after the 3rd of February started. I wasn't disappointed, never will be when it comes to Amy Plum's books.

"We traded places : she's now in Paris, and I'm in New-York. And therein is the problem. This is Kate's town, and it's like she never left. She's still here. She is everywhere."

2) I had, just like every Amy Plum's other fans, a lot of expectations because I wanted to read about how Jules would finally be happy again. His story broke my heart and I couldn't help but shed tears. I could so easily relate on what he was feeling. It can be surprising but the way his emotions are exposed through the book made the read so intense and unique. I love Amy for that, it's powerful and lingers even after we close the book. So well written !
"A new city. A new land. A new life. Or so I had hoped."


3) I love that we get to see and walk in New-York. Being French, I kind of prefer Paris but N-Y was exciting too ! I adored the new characters, especially Faust !
And Ava, well how can you not fall for her? I so wanted to know her story ! She's pretty badass and awesome ! No wonder why she caught our Jules' eyes... But it didn't lead into an easy romance and I loved that too. It was realistic and everything about how they're slowly falling for each other felt right. They are so perfect for each other !
"I sit back and inspect my work. New York. Ava. They are the same in my mind. The same on the page."


OH MY GOSH ! That first kiss !


4) I'm so happy we could read and meet the other characters again, from Charlotte and Ambrose to Gaspard (I love Gaspard !), and from Jeanne to Kate and Vincent. I consider myself as a one of the biggest fan of the Die For Me series so I got to say I will miss all of them so much !
"All's forgotten. There's nothing left to say. I'm just glad you're back. We missed you. All of us." Vincent.


5) After the epilogue of If I Should Die, I was really satisfied about how everything ended. But after this novella, I'm even happier than after the last novel of the series. I mean, it was amazing and so generous that Amy wrote us another piece of the Die For Me's univers. Thank you a lot Amy ! You're the best !

What can I add besides, you need to read the Die For Me series if you haven't already ! I'm sure I will organize a Die For Me marathon this year, feel free to join me ! ;)
Don't forget the other Amy Plum' series, After The End and the second book of this series, Until The Beginning ! (coming out in May ! Can't wait !)
Happy reading !