Falling For Emma
by Alix Nichols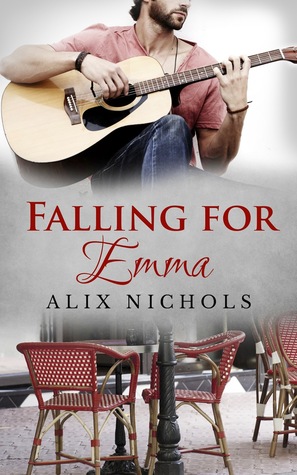 "Rising star of French soft rock Cyril falls for Laura--the charming groupie who waltzed into his life one sweet summer afternoon.
Their story could have been pretty straightforward except...
He's blind.
And she isn't who she claims to be."
Oh mon dieu !
I absolutly LOVED Falling For Emma and I'm really happy to talk to you about this beautiful novella.
Where do I start ?!
Well, maybe you should know, if it wasn't obvious, that the setting of this book is Paris. Everyone who knows me is aware of my love for Paris, my capital city. So I deeply enjoyed reading about one of my favorites cities but most of all, this Romance set in Paris was all I wanted and more ! There were beautiful scenes with emotions and it reminded me of this Audrey Hepburn movie where the main character, Ariane, masquerade as a girl she's not so she can approach and feel the love of the guy of her dreams.
With this book, you walk in Paris, side by side with emotions, laughters and love. There were white lies and you couldn't judge Emma for what she tried so hard not to feel. Because in the end, everything she did was for love. That's the way I see it...
"She watched the breeze ruffle the river's surface and the quaint péniche barges float by. Barge spotting had been one of her favorite pastimes since she was a kid."
I enjoyed the pace of the story, with two POV and intense moments. You could totally feel the story as if you were Cyril or Laura/Emma. It was beautiful, intense and gripping. For instance, I was dying to know how exactly Cyril had his accident or what secrets Emma kept silent. The love story is building in a realistic way that makes this novella an easy read and a page turner. You care about these two characters and want to know what they'll become when the truth is revealed.
About the romance here, I loved the sensuality and the chemistry of Cyril and Laura. It was obvious they were made for each other but sometimes I was scared that one of them wouldn't grab the happy ending they deserved so much. But without telling too much, I can say I was pleased by the plot from the beginning to the end.
I fell for Cyril almost instantly because of his complexity and well, I always had a thing for musician ! His scars were not at all repulsing. I thought he was really interesting to put myself in his shoes, not just because he is blind, but mostly because he is broken. I would have loved to hear him sing or read his songs !
"He could no longer deny how he felt about her. Not just the part where he craved her right down to his bones, but also the part where he had let her take up residence in his empty heart and was still reeling from the glow that filled it..."
As for Emma, I easily put myself in her shoes too. She is both fragile and strong, all she went through and her undying love for Cyril is something you can rely on. I loved that she was the opposite of her nasty sister (Sorry Geraldine !). In the end, you can perfectly understand why their love story was meant to be.
"Oh, how she loved that unrestrained laugh of his. It was better than a bowl of rum raisin ice cream or a scented hot bath in the middle of January or an afternoon on the beach with a great book. It was simply the best thing in the world..."
I hope I didn't forget anything but I think that's pretty much all you need to know about Falling For Emma. I hope you will go read this novella because I really loved all of it. It's the kind of love stories I fell for and I wasn't disappointed ! I will read Alix Nichols Bistro La Bohème series and get back to you about that. I'm already certain I will enjoy it !
Thank you and happy reading !
Bises from France !