Shiver
by Maggie Stiefvater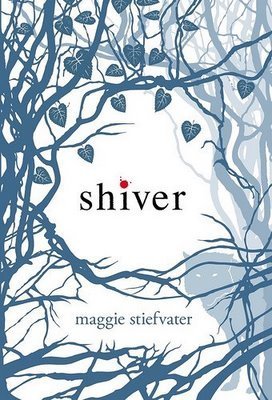 (The Wolves of Mercy Falls #1)
Shiver is the first book in the series The Wolves of Mercy Falls and it did not leave me indifferent ! I really, really loved it and it has been a long time since I fell for a series involving wolves. (The latter I can think about is Vesper by Jeff Sampson) And as usual, I'm happy to talk to you about one of my #goodreads !
First I have to tell you about what's for me the best in this novel, which is the two points of view of both moving and authentic characters:
Grace is a lonely girl with a fascination for wolves that live into the forest next to her house. She is independent, pragmatic and courageous. Her parents are too absent and his circle of friends seems a bit fragile, but all is well in her life. She's not the happiest girl in town and her life at the beginning of the novel is a bit flat and tasteless. I would say she is waiting for something to happen and she is different but she doesn't know exactly why or how.
And on the other hand, there is the mysterious and sensitive Sam. He will not leave you indifferent either ! His personality is dark though dotted with white and bright stains : someone saved him, someone has changed chim. And that's what he did when he met Grace. Of course, his goal was only to save the girl from being eaten by his pack. But summers have passed and Sam's wolf and the young Grace became deep. They observe each other from afar but they are still out of reach...
Until the day a teenager was found dead in the woods and the wolves are designated guilty. Quickly, Grace realizes that his wolf is endangered. Her fears are founded when the hunters begin to search the woods and she discovers that his wolf is injured and loses blood.
Sam doesn't understand, he shouldn't be walking as a humann. Yet there he is, lying in a hospital bed right next to the one he always wanted to meet. It's his chance to know her better. But this is not the most important. There is a wolf who rode into the city and he seems to have no control ... Meanwhile, the two friends have to fight against the cold in order to preserve their relationship and prevent Sam to resume his animal form.
In Shiver, there is intensity and suspense. I think Sam is at the center of the nodes of this novel and with Grace, they have to find out what is wrong in Mercy Falls. At any moment, it looks like they are about to lose everything and we immediately want to know what they will become. It's a really a page turner and the story won't leave your mind !
Bonus : I thought it was pretty theses wolves and their story were pretty original ! This is more about the wild side of wolves and I think Maggie Stiefvater reinvented the myth of the werewolf Forget the full moon or monsters standing on two legs. It's strangely and nicely realistic. Nothing was ridiculous or offensive, I was easily carried by the plot, even if it is less powerful than the main characters.
Finally, I am looking forward to read more ! I invite you to discover this series if you did not know or if you love wolves like Grace do. You will not be disappointed with romance : Grace and Sam became one of my favorite novels couples! (And that only after the first book!)
Thank you and happy reading!