Princess of Thorns
by Stacey Jay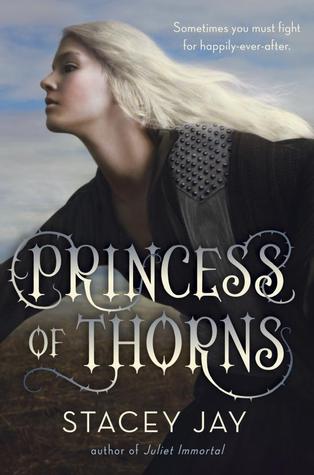 Princess of Thorns tells the story of a girl who would do anything to save her loved ones, not because she's made to win battles, but because she wants to make things right and erase her wrongs. Aurora watched her mother die when she was 7, lived cursed and forced to live far from her only living family : Jor. But everything changed when her 14 years old brother is kidnapped by her forever ennemy : the Ogre Queen. The one who sentenced her mother to death and rules over Aurora's kingdom.
On her way to raise an army so she can save her little brother and take back her crown, she realizes that she can't do this alone. And here he is, the godlike boy that every girl fantasizes about, ready to help her... In exchange of the promise he will marry her sister. Yes, that's what happens when you dress like a man and lie about your identity. And the handsome Niklaas, quick to believe what he sees, is desperate to find a princess to marry... Everyone has is own curse and Aurora and Niklass hold on to theirs like it's a treasure, a dark and secretive one. They both start a journey accross the country, meeting danger and creepy creatures, discovering each other and becoming friends against their pride and prejudice...
"Once upon a time
there lived a prince and a princess with no happily-ever-after..."
I had such a great time reading this novel and I'm glad to share my thoughts with you. I mentioned how much I love Stacey Jay's writing and that I enjoyed every word of every book of hers that I have read. But before I tell you why this book is one of my favorites reads of 2014, I have to say I wasn't completly sure I'd love this GoT univere. Though I was sure I'd enjoy this read because it's Stacey Jay who wrote this story (I liked the blurb so much !), a part of me was kind of afraid it wouldn't work for me. I never watched the show, read the books or even like to read Fantasy (or rarely). So trust me when I say it's a MUST READ. If I could read and love Princess of Thorns while I'm not a fan of Fantasy, no doubt you could too ! The plot was brillant, very well structured and compelling ! I won't reduce my review by using two words, but if I had to, I'd use : stunning as in beautiful and deeply amazing. And epic : of course it was epic ! I loved the main character, Aurora, because she embodies this word. She is a true hero and so much more ! You have to meet her and read her story !
As I read Princess of Thorns, I immersed myself into a universe that was clear, beautiful and dark and kind of twisted : the vilains rule the kingdom and it has to change. A father who makes his sons cursed, a mother who killed herself so she can save her children... I was quickly introduced and gripped by the plot. I had to find out what was waiting for Aurora at the begining of the story and after she meets Niklaas. And how could you stay indifferent to such real, caring and strong characters? I can't say if I enjoyed more the characters than the plot because they were both very well developped, surprising and magnetic. I dreamt of it and thought about it while waiting to go on with my read.
"And sometimes we're the ones who do the breaking. But that's what searching for love is like. You keep pushing on, breaking and being broken, until you find the person you want to hold safe, the only one who knows how to keep you in one piece."
Niklaas
(or the guy I'd really love to meet one day !)
I love Stacey Jay's writing because I always laugh and cry and feel something. And it was the same here, of course. I could really get into the two main characters' head thanks to two narrative first person. I love the tension between Aurora and Niklaas, their little fights, their caracters and the process that leads them to get to care for each other. It was truthful, sweet and realistic. I always enjoy this I-hate-you-but-I-need-you kind of relationship in YA book. So it's an understatment to say I love this romance very much !
To finish, I devoured Princess of Thorns as much as I savoured each page. You have to get your copy and read it. Really, if you love romance, badass characters, actions and fantasy, you won't be disappointed ! I hope my review convinced you to read this new treasure and if you already have, go check Stacey's other books !
Thank you and happy reading !