Dash & Lily's book of Dares
by Rachel Cohn & David Levithan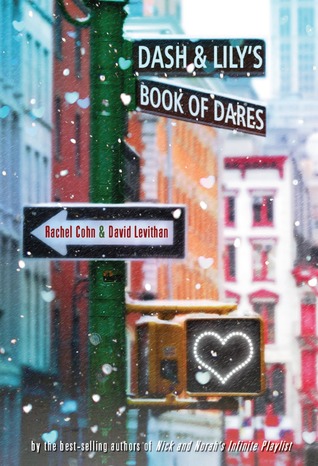 "I've left some clues for you.
If you want them, turn the page.
If you don't, put the book back on the shelf, please."

So begins the latest whirlwind romance from the bestselling authors ofNick & Norah's Infinite Playlist. Lily has left a red notebook full of challenges on a favorite bookstore shelf, waiting for just the right guy to come along and accept its dares. But is Dash that right guy? Or are Dash and Lily only destined to trade dares, dreams, and desires in the notebook they pass back and forth at locations across New York? Could their in-person selves possibly connect as well as their notebook versions? Or will they be a comic mismatch of disastrous proportions?

Rachel Cohn and David Levithan have written a love story that will have readers perusing bookstore shelves, looking and longing for a love (and a red notebook) of their own."
Last September, I completly forgot to share with you my review of this AMAZING book and because in a few days, we celebrate Christmas, this is a perfect timing ! Let me tell you why :
Well, the story starts when Christmas is just around the corner and the two points of view give us two ways to feel the spirit of Christmas. There's the sarcastic, funny and complex Dash. You would never find him decorating the Christmas tree or shopping to find the perfect gifts. He's kind of lonely but okay with it. On the other hand, there's Lily the optimistic, gleeful and shy girl you would meet to make cookies and drink hot chocolate with you. She loves Christmas, spending time with her family and books. The latter is something she has in cummun with Dash but that's prettty much all they share. And their favorite book shop is the same !
That's where the story really begins because Lily left there a red notebook where she dares a boy to play with her. Dash is intrigued and though what she asks is against his nature (sarcastic and loner), he accepts. Their relationship grows deeper and deeper and their mutual dares make us discover New-York. What they feel about each other is complicated because they never met face to face. But it feels like something more real and transforming than they've ever had.
I adored this two characters ! I love the fact that they're different and that's why I think they had to fall for each other. They made me laugh and think and made me want to discover New-York. I found really sweet and beautiful the idea of a red notebook where they could write their thougts and have conservation. They got to know each other in an old fashion way.
One thing I also enjoyed is the two points of view. They made the story lively and I never wanted to stop reading it. I wanted to know when and where they would meet, if their relationship had a future. I was quickly attached to them.
Bonus point : I never felt the taste of cliché while reading ! I have nothing against cliché, they're sometimes unovoidable but here I think it was fresh and funny and tender. I shed some tears because that's who I am. This novel made me love Levithan even more than the previous book I read by him (Love is the higher law) and I know I will read more of his work.
I could tell you a lot more about why and how this book touched my heart but you will have to find out yourself ! I highly recommand you to read Dash & Lily's book of dares. It's really amazing and will please to the romantic inside you.
Thank you and have a good read !