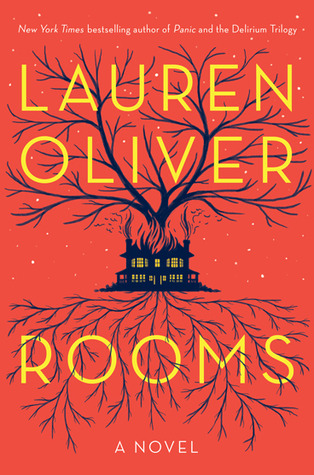 ROOMS
by LAUREN OLIVER
Hi everyone !
One of my goodreads of October is the excellent novel by one of my favorites writers, Lauren Oliver. I was really excited to read this new paranormal story for adults and I was not disappointed ! My review is going to be a short one because I am truly impressed by how this book touched me. Sometimes, great books leave me with such a big impression that I can't say anything more than YOU HAVE TO READ IT ! As a budding writer and as a book lover, it was unforgettable. You may not love this novel as much as I did, but it's really worth the risk if you're not into paranormal. I can't compare this book with another one but maybe you can. Let me know what you think about this new treasure by one of the most talented writers I know.
Rooms turned out to be so much more than I expected. I think, the last time I felt like this after reading a book was when I finished The Messenger by Markus Zusak.
It was thought provoking and beautiful. Sometimes it felt positively crude but efficient too, powerful and moving like a true story which hits you right where it's supposed to. I loved that it wasn't just about ghosts keeping secrets or haunting the living. I could care about every character and I have to admit, it was a bit surprising. The way the story is writen is very unique. You find ghosts telling their stories and their truth. You also find living people struggling with life and their past. I found it was really dark but truthful. It's like there was a war, the house is the battlefield and the characters have to go through every room to find pieces of themselves. Even the pieces they would have gladly burried forever.
Rooms is definitly a MUST READ and a masterpiece. You absolutly have to live it, experience this book.
I hope my review makes you want to read Rooms. Next book by Lauren Oliver is Vanishing Girls. I can't wait to read it !
Have a good read !