Hi everyone !
As I listened to the last Taylor Swift album, I picked my next three good reads !
1) Half Bad by Sally Green
I heard of this book for months now and it's out in France since a few weeks. They it's the new "Harry Potter" but I just watched the movies and never read the books so I hope I will love this universe like I did with Harry Potter.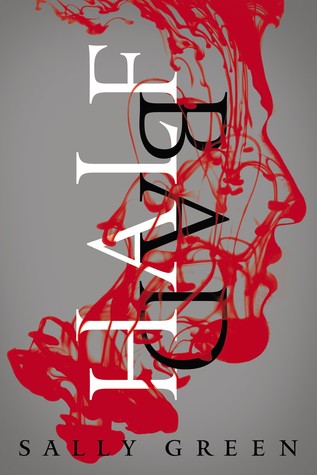 "Sixteen-year-old Nathan lives in a cage: beaten, shackled, trained to kill. In a modern-day England where two warring factions of witches live amongst humans, Nathan is an abomination, the illegitimate son of the world's most terrifying and violent witch, Marcus. Nathan's only hope for survival is to escape his captors, track down Marcus, and receive the three gifts that will bring him into his own magical powers—before it's too late. But how can Nathan find his father when there is no one safe to trust, not even family, not even the girl he loves?

Half Bad is an international sensation and the start of a brilliant trilogy: a gripping tale of alienation and the indomitable will to survive."
2) Beware the wild by Nathalie.C. Parker
This is also a book I heard a lot about. Amy Plum shared her review and I wanted to read this novel too. She has great taste, it's thanks to her that I discovered My Last Kiss by Bethany Neal. I'm sure I will love it. Also, it's not what I usually read. It's about mystery and a vanishing boy. But it sounded really awesome !
"It's an oppressively hot and sticky morning in June when Sterling and her brother, Phin, have an argument that compels him to run into the town swamp -- the one that strikes fear in all the residents of Sticks, Louisiana. Phin doesn't return. Instead, a girl named Lenora May climbs out, and now Sterling is the only person in Sticks who remembers her brother ever existed.

Sterling needs to figure out what the swamp's done with her beloved brother and how Lenora May is connected to his disappearance -- and loner boy Heath Durham might be the only one who can help her.

This debut novel is full of atmosphere, twists and turns, and a swoon-worthy romance."
3) As Red as Blood by Salla Simukka
This novel is coming from Finland and it's supposed to be a huge success and great book. I didn't know it when someone gave it to me a few days before it's out in France. I liked the blurb so I kept it and I will review it for you.
"In the midst of the freezing Arctic winter, seventeen-year-old Lumikki Andersson walks into her school's dark room and finds a stash of wet, crimson-colored money. Thousands of Euros left to dry—splattered with someone's blood.
Lumikki lives alone in a studio apartment far from her parents and the past she left behind. She transferred into a prestigious art school, and she's singularly focused on studying and graduating. Lumikki ignores the cliques, the gossip, and the parties held by the school's most popular and beautiful boys and girls.
But finding the blood-stained money changes everything. Suddenly, Lumikki is swept into a whirlpool of events as she finds herself helping to trace the origins of the money. Events turn even more deadly when evidence points to dirty cops and a notorious drug kingpin best known for the brutality with which he runs his business.
As Lumikki loses control of her carefully constructed world, she discovers that she's been blind to the forces swirling around her—and she's running out of time to set them right. When she sees the stark red of blood on snow, it may be too late to save her friends or herself."
So there it is (a bit late !) my bookshelf of November. If you read of these three books, please tell me what you thought of it or if you plan on reading it someday.