My Last Kiss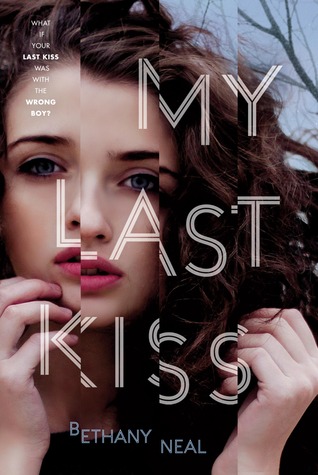 Hi everyone !
I hope you enjoy this review as much as I enjoyed reading My Last Kiss. The cover is gorgeous, just like what's inside !
My Last Kiss tells a story after an ending. It is, among other things, what makes this novel unique. After her death, which she doesn't remember, Cassidy has to understand what she is still doing among the living, why her boyfriend Ethan is the only one who can see her, but more importantly, who is responsible for her death. What happened on the night of her birthday, and what made her make some choices? This novel is not only about a quest for the truth, it is much more than that.
First of all, I loved the idea that Cassidy's first and only love can see her without having more supernatural involved. It was not cliché and I thought it was right and balanced, beautiful. Of course I teared up and I wanted Cassidy to have her life back and to have a chance to change everything. But that would have taken away the novel's authenticity and relevance. The characters were also authentic. I love Ethan and his perfection, his strength too. What can I say about Caleb ? I pay attention to secondary characters and I thought that this one was just as important and complex as the main character herself. He moved me, and I loved his role in the story. I hope I'm not the only one who appreciated him. The struggle of the best friend, Aimee, to set the record straight reminded me of Veronica Mars. It is brave and obvious to her that she has to look for the truth.
The protagonist's journey through her memories and emotions build the novel in a unique way. The way she disappears to melt into the past was interesting and new to me. The suspense in the last pages seemed unbearable but it was perfect. I had my own theory as to who was guilty, but I also got involved in the characters' investigations and in the tension between them. They moved me and they all brought their pieces to the puzzle. I would have happily hugged some of them, just because I think they deserved it (like Caleb, for instance).
Another thing that I enjoyed was the beauty of the writing or once again the relevance of some passages. Whether it is the relations between the friends, or for Cassidy, watching her family mourn. My Last Kiss is one of those books I wish I had written myself. Because it's the kind of story that stays in your mind after you finished it. I won't make a bad joke and say that it will haunt you, but it will definitely move you.
I highly recommend you to read Bethany Neal's first novel and share your opinion about it. I'm sure I will have the pleasure of seeing her talent again in another story. When you read My Last Kiss, you will not regret it and you will understand why I easily gave five stars to this beautiful story. I hope you will take my advice and follow Bethany Neal on Twitter and Facebook. It was a real pleasure to read this book and to talk to you about it. Check my interview with Beth, you won't be disappointed !
Thank you and enjoy your reading!