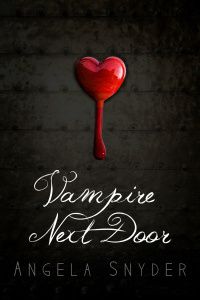 Hi everyone !
When I love a book; I always want to share and talk about it. That's why I wanted to interview Angela. I hope you read my review and loved it. If you didn't read it, , you really should because it's an amazing novel and you won't waste your time.
So I asked some questions to Angela and I'm glad to share this interview with you !
Enjoy !
Hi Angela ! Before you answer my questions, could you tell us more about yourself? Like what do you do when you don't write, how did you get published or anything you'd like to share.
Well, I grew up in a small town in Pennsylvania. I live in an even smaller town now with my husband and Golden Retriever. When I'm not writing, I work a full-time job. I don't mind the job, but it does take up a lot of my time that I would rather be writing, of course. I enjoy spending a lot of time with my family and friends in my spare time.
I am actually self-published. And, no, it was not a last resort. I actually never tried to get published. I wrote Vampire Next Door and, being the impatient person that I am, set out to self-publish it. I don't regret it. I made up my mind that I could always do something later with it, if I so choose. In this day and age, I don't believe that self-publishing has such a negative stigma as it once did. It's much easier to get into self-publishing, and social media has taken everything to another level. I think in time indie authors will be more respected for their craft.
1) First question that I always love to know the answer : How did you know you wanted to become a writer ? Is there a story or a person behind it?
I have been writing for as long as I can remember. I knew I wanted to be a writer from an early age. I can remember writing songs and poetry when I was a child. When I was a teenager, I wrote mostly poetry and short stories. As an adult, I have advanced into full-length novels. I have written literally hundreds of book ideas down, and I plan on publishing a lot of books in my future.
2) What do you love the most about writing? Is there anything you don't like?
I love creating a world with characters that seem so real it's as if I know them in real life. I love getting someone sucked into the imaginary world and envisioning what I created. There isn't anything I don't like about writing except the fact that I wish I had more time to write.
3) How did you come up with the idea to write a story like Vampire Next Door? Why vampires and not werewolves or witches for instance?
I have been obsessed with vampires ever since I read "The Last Vampire" series by Christopher Pike when I was a teen. Anne Rice, of course, also helped in that obsession with her books and the movies based on her books. I have always been fascinated with vampires and how they are such powerful, but also lonely creatures. I can't imagine living forever and seeing all of your friends and family die around you. It has to be such a tragic but, at the same time, magical life. I do have upcoming books about witches and werewolves, but vampires will always be my favorite.
4) Could you tell us if you have written something else or something different?
All of the stories I write are different. No two are alike. I have a new adult romance I'm working on right now. And then after that, I will be working on a young adult paranormal series and a psychic detective series. I have a short story self-published right now called "The List" that deals with suicide and cancer. Vampire Next Door is a paranormal romance. My books are very diverse, but I think it allows me to have a broader audience to entertain.
5) So far, how do you think being a published writer changed your life?
I accomplished a lifelong dream. I always wanted a book that I wrote to sit on my bookshelf with my name on it. Vampire Next Door is proudly displayed on my bookshelf. Now I suppose my goal is to keep writing and add to my shelf.
6) Now regarding your first book, like I said in my review, I think Vampire Next Door is not like any vampire story I've ever read. But in which way do you think your book is original? I mean, I felt like your story gathers everything I usually love in vampire stories but at the same time it's still something I've never read before.
I think whenever someone thinks of a vampire story, they think right away it's going to be nothing but blood and gore. A lot of readers are actually turned off just by the word vampire. But I assure you that my book is different in the sense that it's a lot of romance with a little bite, so to speak. I think all of my books are going to have the same characteristic --- a twist. So in that way, I think my books will stay original and unique.
7) Now, how would you describe your main character with only three words ?
Lost, strong and personable.
8) In Vampire Next Door, is there a character you identify to? Do you have a favorite one?
I love all the characters, but my favorite character by far is Sebastian Alexander. I could write about him all day. He is so complicated in my mind, and I just have so much I want to explore with him.
9) Without telling us too much, could you tell us what kind of epilogue you could/would write for Vampire Next Door.
There will be a sequel at some point. The second book would definitely start out with Sebastian and Jane's (Laurel's) european adventures. I picture them in Paris in a fancy hotel with a balcony overlooking the Eiffel Tower. They are very much in love at this point, but, of course, there are forces trying to break them apart. Elizabeth would definitely be the main antagonist in the second book. She would be one of the main characters, and I would love to explore more of her and Sebastian's history in the second book or maybe even in a prequel just about Sebastian and his life before the first book.
10) Well, I have to admit while reading I kept seeing Sebastian as Ian Somerhalder but, could you tell us which actors you'd cast to play the characters in Vampire Next Door?
Yes, Ian Somerhalder would definitely fit the persona of Sebastian. The actor Sebastian is actually based on is Colin Egglesfield. If you don't know who that is, Google him. You won't be disappointed.
11) Finally I'd like to know if there are writers or books that you refer to ? And what is your favorite book?
Picking a favorite book would be too hard for me. I read so much, and I have read so many great books that it would be very difficult to pick just one. One of my favorite writers would be Dean Koontz. I devour his books and always loved his writing style. I also love to read Charlaine Harris, Dan Brown and Anne Rice.
Thank you so much Angela for your time. I really love this interview and look forward to read The List and other books you wrote.