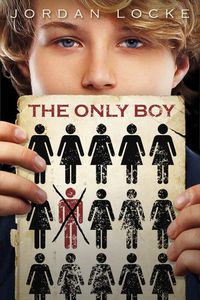 Hi everyone !
Here the synopsis of The Only Boy :
"Mary is stuck in Section One, living with three hundred women in a crumbling hospital. She wonders what life was like two centuries ago, before the Cleansing wiped out all the men. But the rules—the Matriarch's senseless rules—prevent her from exploring the vacant city to find out.

Taylor's got a dangerous secret: he's a boy. His compound's been destroyed, and he's been relocated to Section One. Living under the Matriarch means giving up possessions, eating canned food and avoiding all physical contact. Baggy clothes hide his flat chest and skinny legs, but if anyone discovers what lies beneath, he'll be exiled. Maybe even executed.

Mary's never seen a boy—the Matriarch cut the pictures of men from the textbooks—and she doesn't suspect Taylor's secret. If she knew, she might understand the need to stop the girls from teasing him. If she knew, she might realize why she breaks the rules, just to be near him. Then again, she might be frightened to death of him.

Taylor should go. The Matriarch is watching his every move. But running means leaving Mary—and braving the land beyond the compound's boundaries."
So what do you think? Do you love dystopia? Do you want to read more about Mary and Taylor' stories? And what do you think of the cover? (Jordan Locke's work !)
Well if you enjoyed the synopsis like I did, you should definitly buy it !
Plus, today I've learned there is a give away on Goodreads. 3 books signed and for free !
The main premise of this book is pretty straight forward....an epidemic - called the Cleansing - targeted the males of the world essentially wiping them out of existence.....or so they thought. Mary